I am going to try to demonstrate how to make a functional "Back & Top of the head" protector yourself.
The pattern was provided to me free of charge by Terry of That Guy's Products
http://www.thatguysproducts.com/
who makes some of the best fencing helmets on the market. This back of the head protector was designed by him to supplement his steel sparring helmets but he soon found out that they also work well with fencing masks. His only condition for providing us with the pattern is that we not try to make money off his design. He also asked that we consider his sparring helmets when we're in the market to buy a good fencing helmet.
I will demonstrate how to make this in several phases (posts) so that anyone can stop me and ask questions along the way. Below is a picture of the back of the head protector off of Terry's website:
Below is a picture of the all of the items (numbered) that I gathered to construct my "back/top of the head" protector.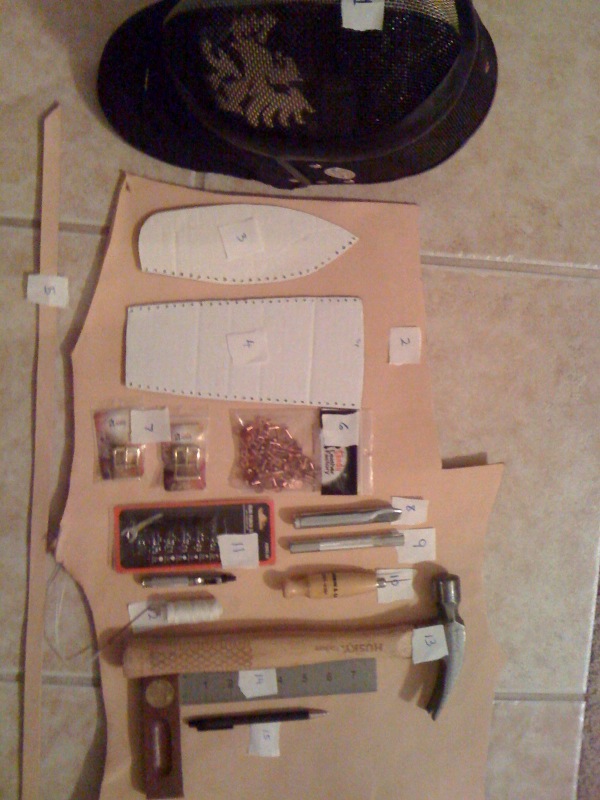 1. 3 weapon fencing mask
2. Minimum 7-8 ounce thick oak tan leather (from Tandy Leather Store)- You only need enougn to cut one piece from the center pattern and 2 pieces from the side pattern.
3. Pattern for "side" pieces of Back Head protector (I can email you pattern)
4. Pattern for "Center" piece of Back Head Protector (Included in above pattern)
5. Strip of 3/4" belt or strapping at least 3 feet long (for mask strapping)
6. Copper rivets male and female ends (from Tandy Leather Store)
7. 2 brass buckles for 3/4" strapping (from Tandy store about $1.34 each)
8. Belt Buckle Slot tool (makes a long oval slot for the buckle nib tip to fit through) - About $10 but u can us a other tools for this
9. Copper Rivet "Set" tool about $10. (There are other cheaper alternative ways to do this other than use rivets & ass. tools
10. Awl for making stitch holes about $7 and well worth the price for the trouble it eliminates
11. Leather hole punch kit (any craft store about $4.50)
12. Waxed leather thread and leather needle (from Tandy store)
13. Hammer (ball peen hammer works best) used for leather hole punch kit and rivet setting.
14. Ruler for spacing buckle holes apart.
15. Pen or Pencil used for marking off pattern and marking off buckle and rivet holes.
16. (not shown) a good set of shears for cutting the pattern out of the leather or an exacto knife.
17. (also not shown) closed cell foam for extra padding.
Next post will deal with marking, cutting and preparing the leather using the email pattern.