HEMA and Traditional Martial Arts
As former President of the HEMA Alliance, co-founder of a successful large club, author of the Polish Saber and one who visits events all over the country, I've encountered in my travels other martial artists. I even share space with them at our club facilities. These traditionalists (for an easy term to use) are practicing arts that are well-established into the main-stream, such as karate, judo, Filipino, or any other number of arts. My encounters have shown a difference in the way I do things and the way they do things. At first, I thought perhaps I was just meeting quirky individuals, but my experiences over the past few years are confirming some broad trends in how HEMA operates compared to traditional martial artists.
My caveat- If you practice a traditional martial art, the following may not describe you, but ponder this- does it describe others you have met? Do the jokes used in Enter the Dojo come come from wholecloth?
Historical Technique vs Perfect Technique
One of the more interesting encounters I have with traditional martial artists is their approach to techniques. If I demonstrate a technique from a source, I am often posed with the following by the traditional martial artist.
A - I know how to counter that- so it's invalid.
B - I know a better way - so it's invalid.
I took these originally as rude comments, but then saw that they do this to each other all the time. Arguing over the best way to perform a technique. Most of them learned their technique directly from another person and so that was the basis of their understanding, however, they felt free to alter and amend what they had learned in search of the perfect technique. This of course would be challenged by another martial artists, and they would then play a verbal and physical merry-go round game.
My own response was to point to the source material. This baffled more than a few, who then questioned the source material.
My reply was, "I am going to try to do the technique the way the source shows it, even if it has weaknesses."
They found this even more bizarre. They could not argue with a dead master and his book, only question the far-removed student of it, who in turn shrugged and pointed at the book again. While some could not get over this, I was delighted to see a few pick up the source material and then start asking, "Wait. It says do this technique, shows these two pictures, but leaves gaps. Who fills those in?"
"You do, by looking at other sources and when all else fails, finding your own way."
This delighted them to no end as they were back on familiar ground.
Another difference was that traditional martial artists I have met tend to have very specific and exacting ideas about how far one should step, or punch, or where exactly to position a hand. This is a stark difference to HEMA that even has source material which scoffs at the idea, Henning for example of the 17th century saying exacting measurements when God made us all differently is a fool's errand.
While our source material has gaps, and we in the HEMA community argue over the contents of it, being able to actually point at text and images and say, "This is what we are trying to do," is a strength in our community.
Untestable
The traditional martial artists I have met have techniques that they could not safely apply. These ranged from powerful throws, to arm breaks, to eye gouges and throat punches to complicated knife disarms. When arguing with one another, because the techniques could not be safely applied, all that could be done were slow movements, each trying to show the other how something works. Often, I'd see one wriggle out of it, because no one was going full speed and then further debate was had.
In HEMA there are some cases of this. Some of Fiore's wrestling techniques I have not found a safe way to demonstrate at full speed, but when it comes to swordplay that is another matter. Every technique I have taught involving a sword can be applied, relatively safely, in a sparring context. I have seen other HEMA instructors do the same.
I also watched among HEMA practioners interpretations rapidly change when, under pressure, they did, or did not work. This ability to go out there and test a technique against an uncooperative opponent is a strength in our community.
Unstoppable
When sparring, of a sorts, between traditional martial artists do occur, I notice that neither party stops all that often. Hit or not, they keep going. The theory is sound enough as I was told by one traditional martial artist.
"In a real fight, do you think I would stop?"
My counter-question was, "How do you know who wins when sparring? Till one guy gives up, or is wrestled into submission?"
Which the answer was, "Yes."
I've encountered some who do this in HEMA, and my issue with it is that since our weapons do not actually cut into flesh or pierce it, a determined individual can just ignore blows. When two people do this, it becomes a competition of who can hit the other guy harder and faster. As a teaching tool, it violates my 'hit but not be hit' goal. While all of us, especially the more experienced, know what is incidental contact and what is not, we do tend to stop when stabbed in the face. I didn't see this as much when traditional martial artists were padded up and sparring.
Surprise!
A teaching tool used in traditional martial arts is to surprise the student.
One had me stand still, then with a book in his hand jabbed it into my throat without explaining what was going on. I was polite, despite the discomfort, and he explained how that a sudden attack could be used to disrupt an opponent- or in this case, a visitor who rents the same space as him and said, "So, what are you working on?"
I now always talk to him from 10 feet away and if he gets closer I put a hand up. He seems mildly amused by this, but I have learned to ask him from far away, "What are you working on?" Just in case the answer is, "Knees to the groin."
John Patterson, the co-founder of my club, calls this, "Surprise, Murder!" teaching.
In HEMA I do not see this as often, because if we are not wearing gear, a surprise attack as a form of teaching a technique could have drastic consequences. It is also not in line with the majority of our sources which depict two armed and ready opponents.
Context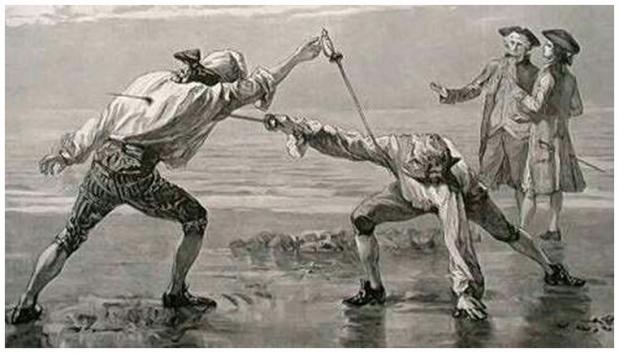 Context in HEMA is important to me, it is why I am writing a book about the subject. Traditional marital artists I encounter have a very different view of context.
While I discuss dueling culture, the martial arts traditionalists I encounter often talk about life or death struggles in terms of self-defense.
While entirely understandable, it leads to some of the life or death techniques being difficult to perform at speed against an uncooperative opponent.
The other issue was one of purpose. I have been asked by traditional martial artists, repeatedly, why bother learning HEMA if it won't be used today for self defense? Now, while some HEMA can be used in that context, wrestling comes to mind, by and large, we all know we are not walking around with swords, nor are we likely to get into a judicial or private duel with someone.
My own answer was I enjoyed doing it and reviving dead martial arts, even if their original context no longer existed.
This was another baffling answer from me that the traditional martial artists I have met were rarely comfortable with.
Master Student Relationship
One of the differences in HEMA compared to traditional martial arts is the master to student relationship. I found with the traditional arts, there was a strong deference to the master and that in some circumstances, questions weren't ever asked. While during drills, I find that normal, it was interesting that after, there was little questioning by the students, but if there were more than one master around, plenty of questions between them as techniques were compared.
The traditional arts have belts and other systems of rank that are, all in all, slow. I get a sense that learning a traditional martial art is a very long process, where a student has to master many skills over many years. A friend of mine joked that when he took judo classes, he spent roughly two years learning to fall down before anything else.
HEMA is far more impatient about this. In my own experiences students learn and apply very quickly. Kyle, for example, a fencer of impeccable skill, with buckets of medals and an instructor now, took roughly three years to become who he is today after joining our club. Now, not all people have such growth, but it also isn't an unheard of story.
Historically this was common, as those learning wanted to, and in some cases needed to, learn very quickly. They could not afford the money or time to be a lifelong student.
Throughout our community I see clubs producing excellent fencers and teachers, which in our early stages I believe is important. It's a strength of our community and something that will help us survive and grow past a generation.
A further difference I noticed is the hesitancy in the HEMA community to use the word master. When it is applied to me, I often kick the dirt and get sheepish, I know it means 'teacher', but I put a little sacredness to the word. Others get downright hostile about the word, applying it only to those who wrote the source material. In the traditional community I see it used without much ceremony or reverence, a title, and no more.
Everyone Knows/Doesn't Know Your Name
In my encounters with traditional martial artists, most were unaware of other masters in their community, especially outside of their local area. They may have known big names, but other than that, I had a sense of isolation coming from them.
In HEMA, our community in North America is largely aware of one another. East Coast, Canada, Mexico, West Coast, I likely know who you are if you are running a club and even if you are not, there is a chance we have met, spoken, seen each other, or I've come across your name. Social media, both in the days when forums like these were popular, and now Facebook, has made this possible. For all I know, the same trend will follow with traditional martial artists.
As is, this close-knit community of ours is a strength. I quite enjoy being involved in HEMA in these early days and to see us, although not all friends, be aware of one another. Compared to other activities, there are not many of us, and I think of the phrase from Henry V of 'we happy few'.
Sure, family fights, but we are still family I find.
HEMA Has a Culture- I just don't know exactly what it is
These broad brush-stroke comparisons between my experiences with traditional martial arts and HEMA comes from a few people bringing up the concept of culture in HEMA and 'what is it?' and 'what should it be?'.
I believe most of these are answered organically and it is not something any one person can dictate, but is rather created by people leading by example and trends simply catching on, or not. When discussing my experiences in HEMA compared to a traditional martial art, one of my club members said there is a difference and that he felt the same when comparing his MMA experiences to that of a traditional art and HEMA. So, something is happening and we are a part of something unique, but like many social trends, I can only discuss it in the broadest of terms. There are exceptions to everything I wrote, and likely a year or five from now, if I were to read this, I would want to adjust. That is the nature of HEMA as we grow, develop and become our own thing- whatever that thing happens to be.
What do you think? Marsden reading traditional arts all wrong? Have similar experiences? What's your thought on HEMA culture?
Polish Saber Book
https://www.amazon.com/Polish-Saber-Ric ... 771654/ref
Types of Students in HEMA
viewtopic.php?f=7&t=4421
Who gets a place at the proverbial table?
viewtopic.php?f=7&t=4763
Shame and Outrage Culture
viewtopic.php?f=7&t=4729
Shameless Polish Saber Plug
http://www.amazon.com/gp/product/0984771654/ref
5 Drills
viewtopic.php?f=3&t=4804&p=60854#p60854
Rebrand Yourselves
viewtopic.php?f=7&t=4800